Website Design, Web Design & Website Development solutions for your online presence.
Your website . . . is you. How well are you presenting yourself?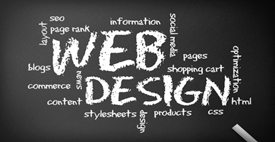 Affordable & Cheap Website Design & Development Solutions - from simple HTML or PHP-based sites, eCommerce, CMS-based sites like Joomla, Drupal or Wordpress, Database solutions or custom programmed sites built from the ground up, we've got you covered.
Be it a simple online presence, a contemporary showcase, a database driven e-commerce web site, or an online portal, your website design is just the beginning and you need a skilled website designer and website programmer to bring your vision to life online. Working closely with you to assess your web site requirements, we produce affordable websites and custom websites from Bangkok, Thailand tailored to reach your target audience.
As an affordable website design agency, knowledgeable in the web site environment and the associated technologies required, we design websites that consistently perform for our clients, on budget and on time and that always exceed our clients expectations.
Our talented website designers and website development team stands ready to assist with:
custom website design and development solutions
compelling web copy
template customization (Joomla, Drupal, WordPress, Magento, OSCommerce, ZenCart, PrestaShop) and many more
custom-coded solutions to create your own unique web site using HTML, ASP or PHP
eCommerce capability (your own 'shopping cart', either custom-built or within a CMS-based system)
CMS systems (Joomla, Drupal, WordPress, Magento, OSCommerce, ZenCart, PrestaShop) and many more
white-hat SEO optimization
+ many more value-added options . . . just ask!
Why not see the full range of custom services we have to offer? And just what our experienced and innovative team can recommend to meet your current, and your future, business website needs.
We profit, by enabling a more profitable you!
Whether it's a new site or a website redesign, we can ensure you are seen by the right people.
To see what we can do, take a look at some of our recent website projects we have completed which you can find listed under the 'samples' menu in our main menu above.
Let us help make your next online website business a success!
Don't delay, get in touch today!