The Importance of Good SEO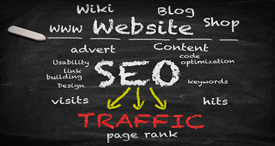 Search Engine Optimization (SEO) - Marketing Research, Keyword Research, Onsite Optimization, Offsite Optimization, Search Engine Submission, Link Building, Article Writing, Blogs, Social Networking, Pay-Per-Click (PPC)
If you want your website to reach its full potential, you have to try to make it as visible as possible. However, improving the visibility of a website is becoming more difficult these days, because there are simply too many websites offering the same kind of information or products as you are. In order to attract more people to your website, you need to promote your website in places where your potential visitors can be found. When Internet users need certain information or products and services, they will look for them in search engines. To make your website more visible to users of those search engines, you need to do SEO.
SEO stands for "search engine optimization", and it refers to the act of improving or restructuring a website or its web pages to achieve higher rankings in search engines. When Internet users search for websites in a search engine, they will enter keywords that are related to the kind of websites they wish to find. The search engine will then display a long list of websites that are related to the keywords, and the users can click on the links that are provided in the list to visit their desired websites. Websites that appear on the first few pages of search results will have a better chance of getting selected by users. Therefore, SEO is an vital part of increasing your website traffic.
In order to achieve effective SEO, you need to understand how search engine ranking is determined. Search engines favor websites that contain a lot of well-written and useful content, and they will assign higher rankings to these websites. As such, if you want to get a high search engine ranking, you have to add more helpful informative relevant information into your website. Another thing that you should know about search engines is that they assign rankings according to the relevancy of keywords found in websites. It is essential that you include keywords that are commonly used by Internet users in your articles. When someone uses the same keywords to perform searches in a search engine, there is a higher chance that your website will come up early in the search results. Additionally, search engines prefer websites that contain current information and you should keep your website updated all the time.
Making arrangements with authoritative websites to link to your website can also improve your search engine ranking. It can help you maintain high rankings in search engines for a longer period of time. After you have optimized your website, you can proceed to submitting it to major search engines. Top search engines, such as Google, Yahoo!, and Bing, receives millions of visitors every day, and you can rest assured that you will get a lot of visitors if you manage to rank high in these search engines.
SEO has proven to be one of the most powerful online marketing strategies, and it has enabled countless website owners to increase their incoming traffic significantly. If you know how to use the right SEO techniques, you will be able to achieve tremendous success on the Internet.
To find out how CMYKreative can help your site move up the search engine rankings, take a look at the SEO services we offer and we'll provide you with a free analysis of your site and our suggested SEO strategies.